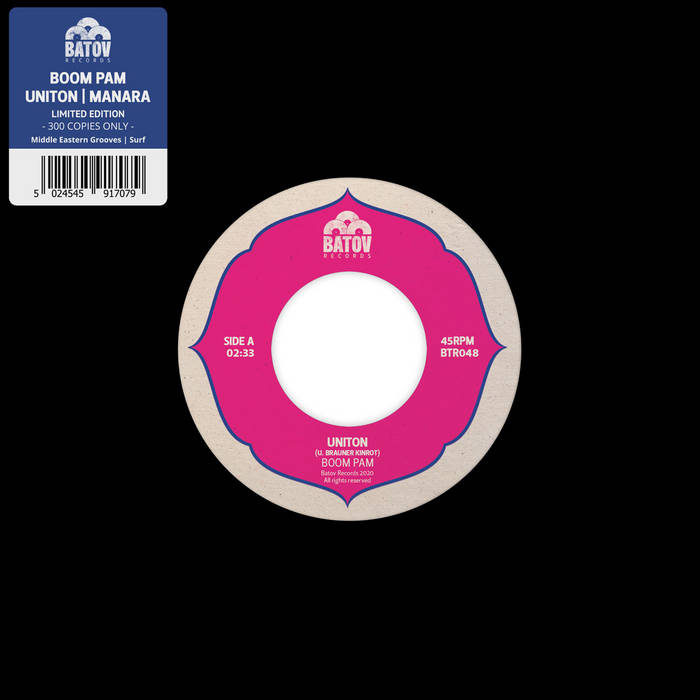 Boom Pam – Uniton
The Middle Eastern Grooves series is one very much close to DJ Kobayashi's heart, and for the 9th release in this incredibly popular collection, he has selected something extra special with BOOM PAM – Uniton! The tunes on this release have long been a staple in Kobayashi's DJ sets, and for the very first time, these tracks are now available on 7-inch vinyl.
The record hits straight away with a killer A-side in the shape of "Uniton" from BOOM PAM's third album "Alakazam" (2010).
If you have ever been to a party where DJ Kobayashi was playing, you will almost certainly have heard this one, it's like a joker in the pack; It never fails to get the dance floor jumping, every time! The song starts with a long dramatic tuba exclamation, followed by a guitar solo to die for. The tension builds leading into the main guitar riff, and it's here that the party really gets started!
On the flip side, Kobayashi has selected another gem featuring the legendary Kutiman on the track Manara, which was originally featured on "Manara & Summer Singles" (2013) and was one of the stand out tracks on the album. This tune kicks off with laid back and tom-heavy drum groove which leads into a wonderfully psychedelic organ riff from Kutiman, alongside an unmistakably 'BOOM PAM' guitar riff. It's full of Mediterranean vibes and grooves, and the track really takes off when things move into double time!