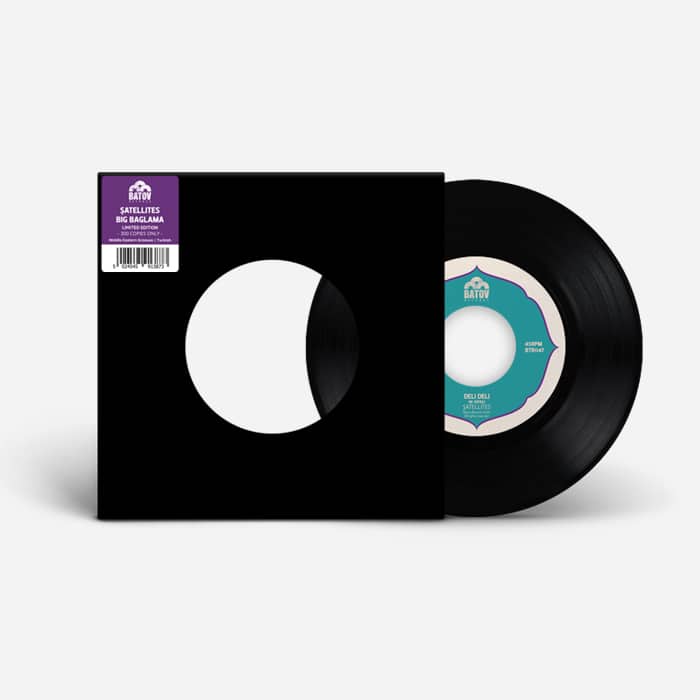 Şatellites – Big Baglama Vinyl 7″
Our exclusive Middle Eastern Grooves series has a new, funky, double-sided 7" addition titled 'Big Baglama' by Şatellites: a fun release that gives vintage Turkish beats a new spin.
'Big Baglama' is a beautiful instrumental piece that captures the sound of an acoustic diwan saz – known as a bağlama – integrating it in a series of riffs connected by a funky groove. The baglama gives off a fresh and lively feeling, despite the vintage flavour provided via the spacey synth and rippling drums. This track channels the energy and style of old school fuzzy vibe of Arif Sag's saz recording of the '70s but makes it new and entertaining to the ear, pulling the listener in for a fun ride.
The B-side 'Deli Deli' opens with a groovy bass riff and ululating synth, followed by a nifty melodic lead on the baglama and then Yuli's enchanting vocals. The song is a new interpretation of an old piece by beloved 70's Turkish folk singer Şakir Öner. This new version differs from the original in the more bright and poppy feel, conveyed by the 6/8 rhythm, and the addition of a whole new section by the band.
Şatellites are another exciting act from the celebrated Tel Aviv music scene, and here at Batov Records we love them! Formed earlier this year, the group comprises talented vocalist Yuli Shafriri on the synth; Itamar Klüger on the baglama & bouzouki; Ariel Harrosh on the bass and Azriel 'Raz' Man on the drums. The band plays anything from Anatolian rock to vintage psych and spacey grooves. Şatellites describe their sound as retro-fresh psych à la Turk, a musical "laboratory" lost somewhere between the mysterious alleys of 70's Istanbul and the scorching sun and crystal blue sea of Jaffa-Tel Aviv, 2020.
Pick up a copy of Big Baglama Vinyl 7″ at our Bandcamp Store. This release is also available in digital format.