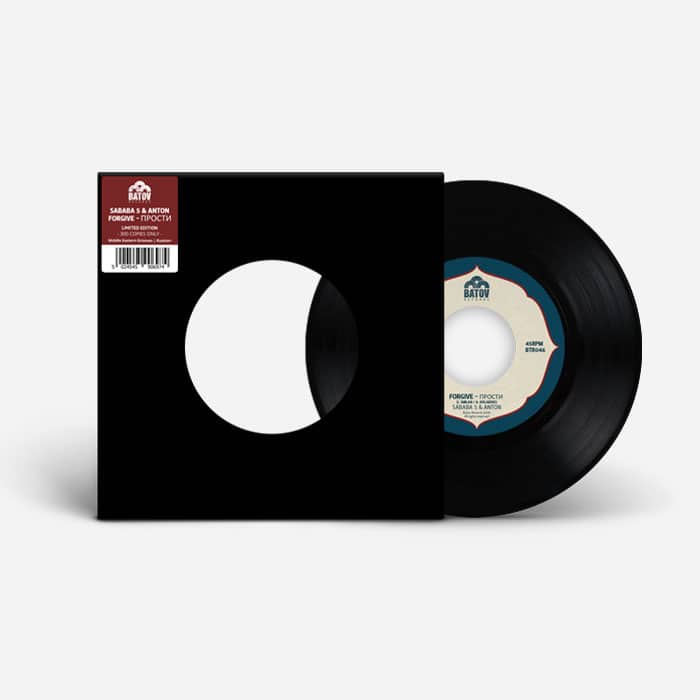 Sababa 5 feat. Anton – Forgive
Sababa 5 are back once again on our exclusive Middle Eastern Grooves series with another double-sided 7 inch: Sababa 5 feat. Anton – Forgive – Прости (Prosti); a funky release featuring the voice and lyrics of Anton Koliadko.
Forgive opens with a simple, vintage-sounding, syncopated hook led by the bass, keyboards, drums and guitar that will persist during the whole song. Some spacey sound effects and the keyboards, closely resembling an electric organ, immediately give it a distinct 70's psychedelic flavour and an intriguing character. The lyrics kick in, narrating the story of a man who's late for his date – all because he got lost in a day dream. The song reaches its climax with a beautiful guitar solo.
On the B-side: the melodic theme of 'Forgive' is further explored in an instrumental version of the song, where wonderfully expressive keyboards take centre stage in place of the vocals. To add another dimension to the cosmic vibe of the track, vocal samples from the cult 70s Soviet-era movie Teens in the Universe float in and out, drenched in a psychedelic tape-echo effect. This tune will certainly find its way into many a DJ's record bag!
If you don't know Sababa 5 yet, you're definitely missing out on one of the hottest bands on the Tel Aviv music scene. Founded by Amir Sadot and Ilan Smilan, the group are currently one of Batov Records' most popular artists.
Sababa 5's musical style has been influenced by all its members and is in continuous evolution, though always remaining very groove-centric. The sound is mainly based in surf rock and retro funk, especially mizrahit Israeli folk and funk music from the '60s and the '70s and artists from that period, such as the legendary Aris San.
Anton Koliadko is a songwriter, record producer, singer and multi-instrumentalist. Born in 1980 in Lviv, Ukraine, and currently residing in Tel Aviv, Israel. His philosophy of life, and the main inspiration for his art, comes from the merge between different cultures and influences. His work centres around the fusion born from the common ground. This theme emerges in the music he makes with his band, Los Caparos, and all his other collaborations; with Sababa 5, the music is Middle Eastern inspired, while the lyrics are Russian.
This release is also available in digital format. Order now from our Bandcamp Store.