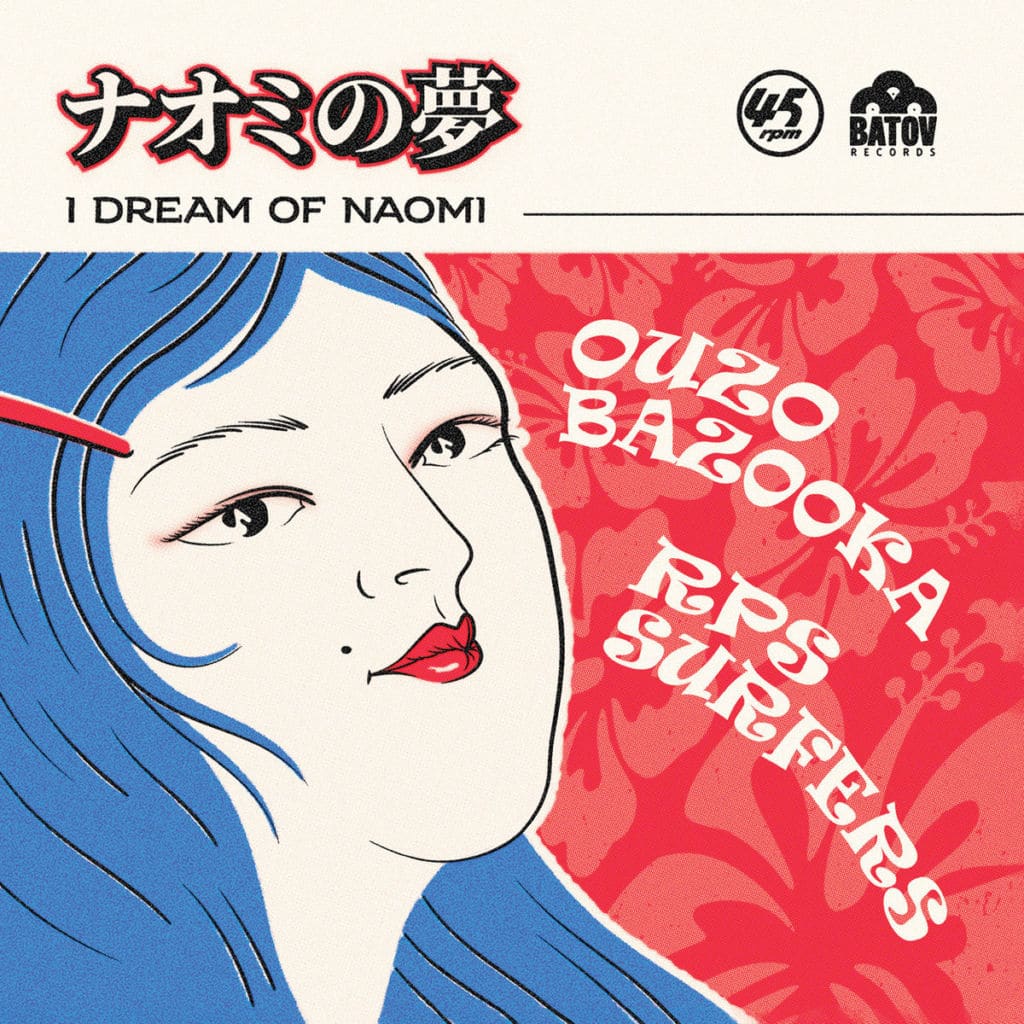 I Dream Of Naomi – ナオミの夢
Batov Records present an absolute killer double-sided 7inch of international surf pop gold. Two of the most exciting psych and surf bands in Tel Aviv, Ouzo Bazooka and RPS Surfers, share their truly electric versions of Hedva and David's international pop hit, "I Dream Of Naomi" marking the 50th anniversary of its first-place winning debut at the Yamaha Song Festival in Tokyo, unofficially known as the "Oriental Eurovision".
Having won the competition Hedva and David released "I Dream Of Naomi" with a new Japanese translation. The record would soon sell hundreds of thousands of copies in Japan alone, earning them a gold disc. It's catchy melody and classic 70s pop sound has continued to win over fans and inspire numerous cover versions in Japan, South Korea, and beyond.
Ouzo Bazooka are currently among Tel Aviv's finest musical exports. Since releasing their debut album in 2014 they have toured extensively around Israel and Europe, winning fans over with their distinctive blend of psychedelic surf rock with a Middle Eastern feel, "a dizzying concoction of east meets west". Led by guitar hero Uri Brauner Kinrot, Uri has helped shape the influential sound of many bands, from Balkan Beat Box, Shantel, Firewater, and Kocani Orkestar to Boom Pam heard across major music festivals across the globe, from Glastonbury (UK) and Lollapalooza (USA) to Fujirock (Japan).
Ouzo Bazooka are joined on vocals by locally-based, Japanese vocalist Yurika, who brings her unique style to bear on the original Japanese translation, with similar aplomb to her "Tokyo Midnight" smash with Sababa 5, recently championed by Gilles Peterson. Yurika's vocals soar over the irresistible psychedelic surf grooves, buoyed by wonky synthesizers, buzzsaw guitar, and funky walking bass, segueing in the second half into a very Middle Eastern groove.
RPS Surfers are leading exponents of modern surf rock on the Mediterranean scene, combining traditional 60's surf with middle-eastern sounds, reverberating guitars riffs, vintage organs, colossal drums, and wild saxophones. Encouraged by their producer, Uri Brauner Kinrot, their sound has won praise far and wide, with Bandcamp naming them one of 12 essential acts behind the Israeli groove scene and their debut named as "one of the best surf rock albums in the last decade" by It's Psychedelic Baby Magazine.
Inspired by both the original US surf sound and the subsequent Japanese eleki scene that followed it, The RPS Surfers' take on "I Dream Of Naomi", featuring the dueling guitars of Uzi Ramirez (Ramirez Brothers and Boom-Pam) and Tal Oren (RPS Surfers), exudes a timeless surf rock feel, sharp and groove-laden enough to win over any floor, from surf-purists & garage rocks to more eclectic dancefloors.
However, its subtle psychedelic & Middle Eastern bent, with that extra guitar reverb and cosmic synth emission, provides an additional depth, making this version of "I Dream Of Naomi" one to help us transcend lockdown reality during this difficult period. As the band point out themselves, "our instrumental version is an effort to make an eleki song, connecting Japan to the middle-east with a song familiar to anyone in Japan as well as in Israel."
A perfect addition to Batov Records' extensive catalogue of Middle Eastern grooves and experimental sounds that have connected the fervent Tel Aviv scene with open-minded dancefloors, tastemaker-led radio shows and serious record collectors from all around the world. Not to be missed!