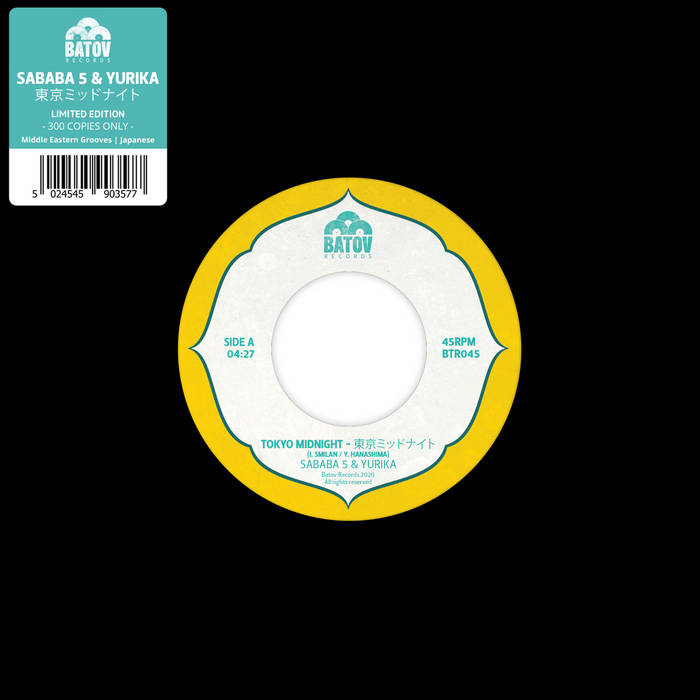 If you don't know Sababa 5 yet, you're definitely missing out on one of the hottest bands on the Tel Aviv music scene.
Following their very popular debut release 'Crossroad of Love', Sababa 5 and vocalist Yurika are back on the exclusive Middle Eastern Grooves with their newest double-sided 7" collaboration titled 'Tokyo Midnight'. The record is a dazzling encounter of cultures, inspired by the funky and exotic melodies of Sababa 5 and the resplendent Japanese words of Yurika.
Title track Tokyo Midnight opens with a groovy guitar riff and continues to an upbeat rhythmic workout, complete with a funky bassline and ululating keyboards. Yurika's enchanting voice ties things together in a soft, yet hypnotic, musical whirlwind.
On the B-side – Nasnusa – a beautiful guitar solo continues into a captivating rhythm inspired by traditional Mizrahi music. Yurika's delicate vocals evoke a love story; a couple watches the sunset as the gates to a new world are opening. As Nasnusa fades into the light, her lover recalls her beauty and expresses fondness over the wonderful time they spent together.
This release is also available on 7″ vinyl.