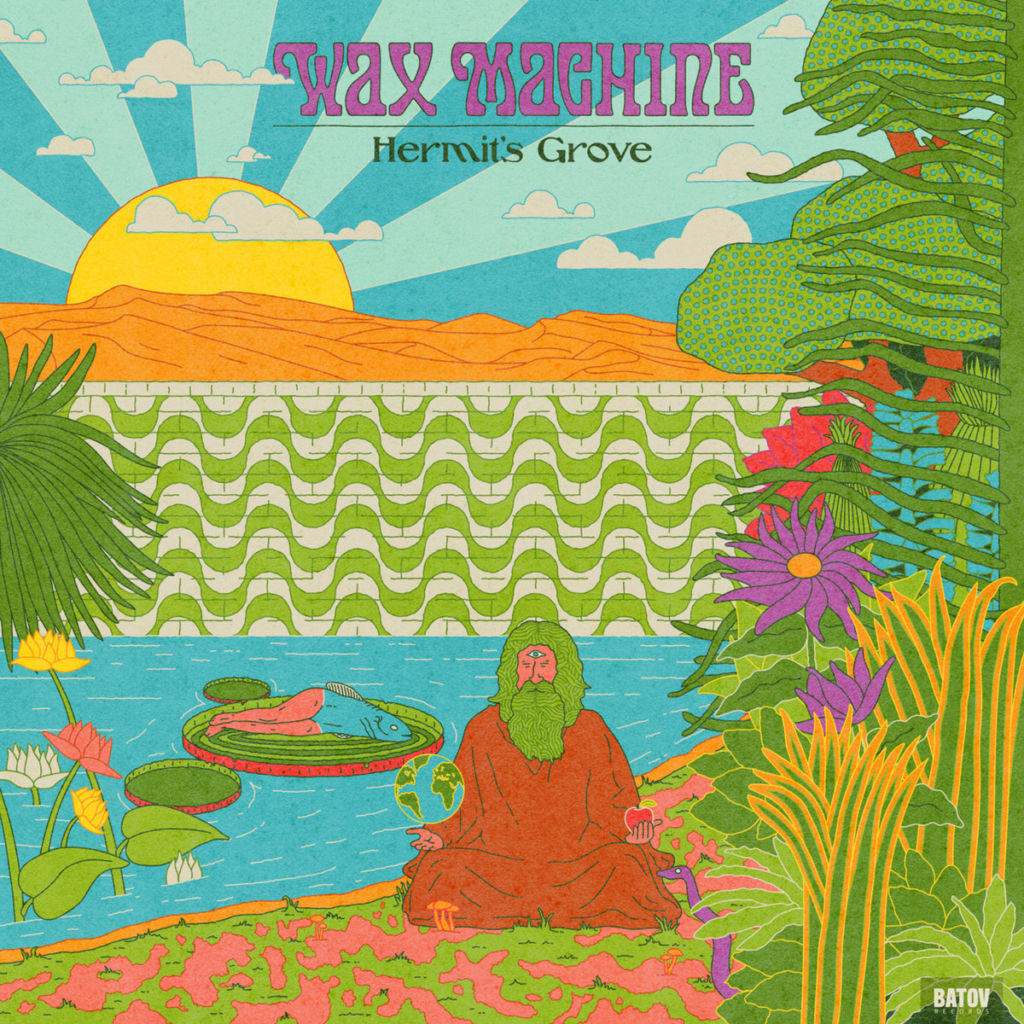 About Hermit's Grove
Surfing on a sun-drenched wave of psychedelia comes Brighton's very own Merry Pranksters, Wax Machine. Primarily recorded and mixed in a closet room directly above a mortuary, their self-produced album Hermit's Grove is a heady trip through progressive psychedelia, kitsch Italian library music and Brazilian tropicalia. Led off by the single Guardians of Eden, the album is set for release on 1st July via Batov Records (Şatellites, Sababa 5).
Wax Machine is the project of Brazilian-born, Italian/English-raised Lau Ro, who takes a deep dive into their Brazilian heritage on this LP, taking inspiration from 60s tropicalia music and movement and the likes of Os Mutantes, Caetano Veloso and Gal Costa.
"Brazil is where I was born and grew up until I was 8 years old, and it's where my family is from. We then immigrated to Europe and I was never able to visit Brazil after that as it's a very expensive flight. Instead I've opted for the next best thing which is connecting with the spirit and culture of Brazil via the medium of music."
The album features a version of Canto De Iemanja from Vinicius De Moraes and Baden Powell's seminal 1966 Brazilian album Os Afro-sambas. Canto De Iemanja is about the goddess of the sea Iemanja, a chant Lau has often found themselves singing to the sea in their hometown of Brighton.
"The ocean is a muse of mine. I go to the sea whenever I can, her presence enlivens, refreshes and brings me deeper awareness. This version is a homage both to my motherland and the great big blue that separates us."
The first single and album opener Guardians of Eden is carried in on a cloud of flutes and birdsong. The first half celebrates the light and beauty of this world, while the second half is a reflection on the shadow of our existence here. The three minute, psychedelic explosion of Springtime is a "meditation on the cycles of nature, the dance of duality, the swinging of the cosmic pendulum."
Two EPs in 2018 preceded their debut album Earthsong of Silence in 2020, with Clash Magazine declaring that Wax Machine "occupy a space somewhere in the gaps where English psych-folk, sun drenched West Coast sounds, Brazilian Tropicália and spiritual jazz overlap." That year they also had a track featured on the Mr Bongo Record Club 4 compilation.
Although there is constantly evolving line up both in studio and on stage, long time collaborators Toma Sapir (drums, percussions, samples/synths), Isobel Jones (Flute/Vocals) and Ella Russell (vocals in Canto De lemanja) all appear on both albums.
A tour de force live, the group have shared the stage with the likes of the Babe Rainbow, Kikagaku Moyo and Vanishing Twin. The band are currently in the midst of a UK and European tour, ending with a homecoming show in Brighton on 27th May.
On the album Isobel Jones plays Flute/Vocals, Toma Sapir – drums, percussions and samples/synths, Freddie Willatt – sax, Ella Russell – vocals in "Canto De lemanja", Kate Mager – bass  in "…Iemanja", Adam Campbell – electric piano, Marja  Burchard(from Embryo/Karl Hector) – vibraphones on "Gaian  Dream".