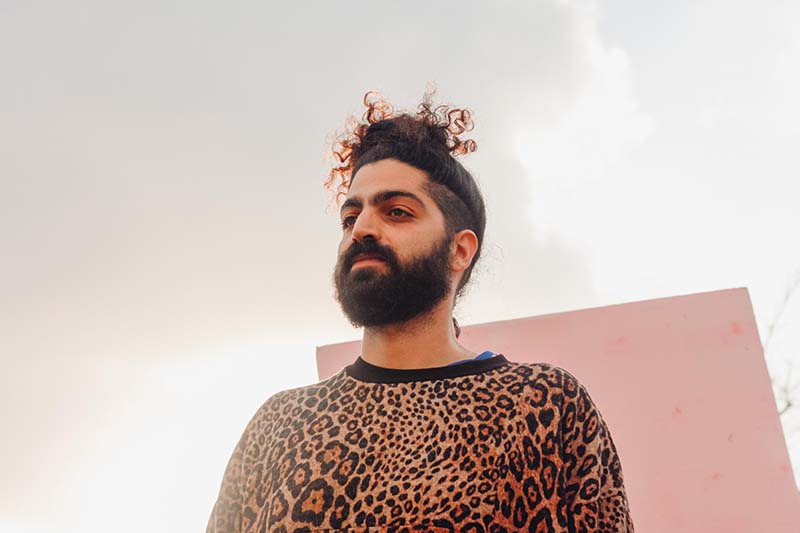 About Shay Hazan
Shay Hazan, composer, producer, bassist & bandleader, having cemented a key role in the electric Tel Aviv scene, is poised to share his multiple talents with the world, a unique synthesis of jazz, hip hop, and Moroccan Gnawa music.
Not content with leading a world class jazz quintet, performing on Europe's most prestigious festival stages, with a vinyl release on Jazzman Records and support on cutting edge radio stations such as NTS. Shay Hazan's solo work, signed to Batov Records, see him constructing soulful and sophisticated hip hop leaning beats & soundscapes, with a jazz musician's' ear and flair, around an hypnotic and uplifting sound centered on Hazan's individual playing of the guimbri, the traditional three stringed skin-covered bass lute heard found in Moroccan Gnawa music.
Havan's musical story begins, perhaps, with his picking up the electric bass in high school, playing rock and eventually falling into jazz, in the local conservatory, commencing a lifelong passion. By his latter teen years, Hazan had progressed to the double bass, and would continue to study soley music, eagerly absorbing the music of Mingus, Sun Ra, Art Ensemble of Chicago, and Albert Ayler, and engaging in the local music scene.
On one side, Hazan performed at the highest levels of the local jazz scene, recording and performing with Ziv Taubenfeld and Nir Sabag in the Bones Trio, on stages and at festivals across Israel and Europe, billed alongside a long list of personal heroes, before establishing and leading his own quintet, or ensemble, and performing with leading saxophonist, Michaël Attias.
It was at one performance with Bones that Hazan witnessed the legendary free jazz double bassist, William Parker, playing the guimbri, the skin-covered bass lute heard in Gnawa music. Hazan was enchanted by "the simplicity of the instrument", three strings and you only need to play two, but you have to be very creative within the instrument's limits, the sound and groove being of utmost importance. In fact via the leather cover the instrument itself is partly percussive, thus arguably not only tonal.
Shay was compelled to learn how to play the instrument and incorporate it into his music. He finally managed to purchase an authentic guimbri from Morocco and studied recordings from the masters of Gnawa music at length, in particular Maleem Mahmoud Guinia and his phenomenal recording with saxophonist Pharoah Sanders, ' The Trance of Seven Colors'. Not native to Morocco himself, rather than using the instrument to play the traditional and devotional Gnawa music, he sought a balance to express himself in the best and most honest way possible.
Meanwhile, Hazan witnessed increasing demand for his talents as a session and touring musician, from backing Lucille, a popular local hip hop crew, to pop sensation, Eliad. Not forgetting the hand he played in fellow Batov Records signing Sandman Project. Shay Hazan would find himself in a multitude of studios, working with a wide variety of artists, constantly open to what he could learn from others, crucially the producers, that could apply to his own music.
Already a long-time fan of hip hop and R&B, and the producer J Dilla and the chart-busting Fugees, Hazan recognised its common grove with jazz and applied his acquired knowledge from working with so many artists to build up his own musical productions. Since he couldn't afford to record, mix, etc other musicians, he learned to use computers to produce music himself.
This self-reliance would be of great use during the first Covid lockdown. Hazan would pick up a groove, perhaps on keys or the guimbri, before sending the parts to a drummer or saxophonist to complement them and finally editing the results to best suit his vision. Thus, Hazan fulfilled the roles of composer and producer, as well as guimbri player."
The results can be heard on 'Reclusive Rituals', Shay Hazan's most personal, hands-on project to date and an exciting new chapter in his career.