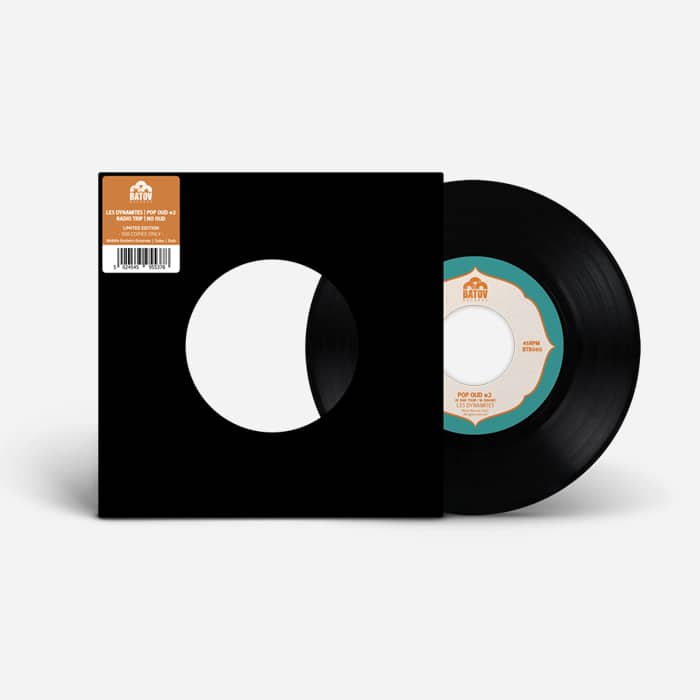 Pop Oud #2 Vinyl / No Oud
The 13th edition of Batov Records' essential Middle Eastern Groove 45s series showcases the irresistible Mediterranean psych sound of Les Dynamites, backed with a heavyweight dub by Israeli digging & beats pioneers, Radio Trip, as they pay homage to the 70s band Lehakat Tzliley Ha'oud, who pioneered a fusion of Yemenite, North African, Greek, and Mizrahi styles with funk and rock, updating their cult song, "Neimat Pop Oud".
Jerusalem's Les Dynamites have built a healthy reputation for their tight party-starting sound, a melting pot Dick Dale surf rock, Balkan brass, Anatolian and Greek psych and the Yemeni folk music that soundtracks their day-to-day existence. Guitarist Roy Bar-tour (aka Dynamite Joe) overdubs his electric guitar to replicate the whirling effect of the Turkish oud or Greek bouzouki, over Adam "Arturo" Yodfat's 's resonating sousaphone bassline and the thunderous drums laid down by Atzmon Avrahami aka Luigi.
On "No Oud", Israel's most influential digging duo, Radio Trip, re-center the song around the bassline, twinned with cavernous dub-echo drums. Radio Trip wrote the book for generations of record collectors and hip hop producers to follow when it comes to digging and sampling obscure Israeli and Yemenite funk and psychedelic grooves. In turn they influenced the next generation of musicians who as a result looked further back into their own musical heritage, at least as much as the usual American and British influences.
"Oud Two" and "No Oud" are destined to inspire aspiring belly dancers, break dancers and any curious music lovers interested in diving into the seductives grooves of Israel's ancient cities.