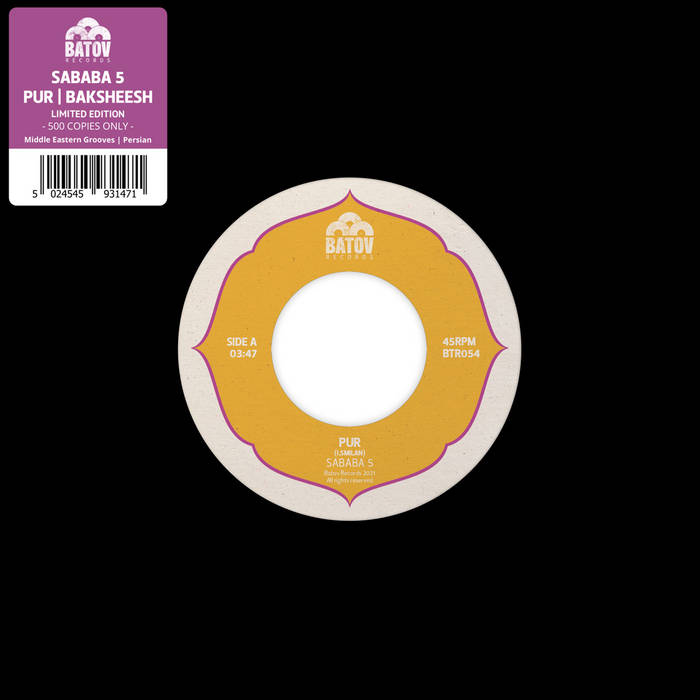 Sababa 5 – Pur
Sababa 5 returns with a double dose of euphoric Persian psych & purely instrumental groove on 'Pur b/w Baksheesh', the tenth release on the highly collectible Batov Records Middle Eastern Grooves series.
Tel Aviv based four-piece Sababa 5 is practically a supergroup of musicians from the local scene, having earned their chops in the likes of the Hoodna Orchestra, Tigris, and Kutiman Orchestra. Between them, they have recorded and performed with leading vocalists such as Gili Yalo, Ester Rada, and Liraz Charhi.
Liraz Charhi won wide acclaim delving into her Persian roots on her recent releases, secretly recording with Iranian musicians. Whilst backing Charhi on tour, Sababa 5 guitarist Ilan Smilan and bassist Amir Sadot had to learn the music inside and out and in the process developed an obsession with Persian music too.
Sababa 5's knack for Middle Eastern grooves with killer hooks is also apparent on their recent 45 for Batov Records. Featuring Japanese vocalist Yurika, "Tokyo Midnight" b/w "Nasnusa" numbered the likes of Gilles Peterson on BBC 6 Radio Music, and France's leading purveyor of alternative sounds, Radio Nova, among its champions.
At the core of Sababa 5's sound is the perfect pairing of Amir's loping bass and the galloping drums of Raz Man, driving a traditional Persian 6/8 rhythm with an irresistible psychedelic touch. On A-Side "Pur" (Persian for 'luck"), an additional drum machine kick subtly adds a steady pulse to the song, which peaks with a wild synth solo by Eitan Drabkin.
On the flip, "Baksheesh" ('bribery) begins with a slippery, almost surf- like Middle Eastern guitar motif, before the powerful bassline and skittery drum rhythm deliver the groove. However, the star of the show could well be Eitan's gritty organ. Apart from delivering the hook, the organ solos through half the record with near wild abandon.
In summary, 'Pur b/w Baksheesh' is another essential pair of instrumental grooves from Sababa 5 and Batov Records, ready for the discerning dancefloor, kitchen, or bedroom.
This release is also available on 7 inch vinyl. Pre-order now from our Bandcamp Store.
"this is so good, journey vibes" – Kaptin Barrett (Boomtown / SWU.FM)
"Their best release yet on Batov! 'Pur' swings like a beast!" – Ex-Friendly (Truth & Lies music)
I got excited when I read Persian psych, and even more so when I heard how groovy this one actually is, especially the jam section in the middle and I loved how it wrapped up too! This is the type of jam that I'd imagine would sound so good coming out of a good system in an open air setting on a warm summer night, and people not paying attention and just there for the vibes would stop and say hey what's this now ;) – Kerem Gokmen (Dubmission Radioshow, WYEP Pittsburgh)
"amazing bouncy psychedelic composition for swirly sweaty nights" – SebCat (Rebel Up Records & Radio)